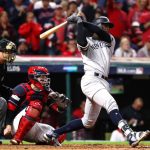 The New York Yankees defeated the Cleveland Indians last night 5-2, thus advancing to the American League Championship Series.  We NEED to talk about it.
We'll also begin a series of interviews that deal with the subject of "hazing."  We'll look at these questions:
(1)  What is hazing in the Marine Corps?
(2)  Why do Marine haze?
(3)  Who hazes?
(4)  Who is the key to minimizing (knowing it won't be eliminated) the amount of hazing that Marines experience?
Podcast: Play in new window | Download