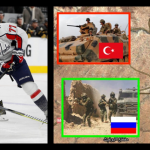 If you're not watching the Stanley Cup Playoff, YOU SHOULD BE!  Incredible speed, skill and violence on display… LOVE IT!
In a HUGE move in Syria, the US & Turkey announced that they had come to an agreement relative to Syrian Kurdish forces in the city of Manbij — it's a big deal.
We'll talk about this and more on today's edition of ALL MARINE RADIO!
Podcast: Play in new window | Download