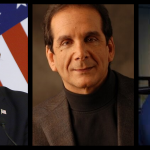 We lost political thinker, writer and commentator Charles Krauthammer last week and then saw our national political discourse move into a phase where public figures are assailed in restaurants, asked to leave restaurants and had their houses surrounded by groups of protesters.  What happens when the crazies begin to participate in this stalking and terrorizing of public officials?  More shootings?  Our President and elected officials like Maxine Waters drag the national discussion further and further into the abyss of sh**.  Sad.
Mr. Krauthammer was an articulate voice of in our national political dialogue, the nation will certainly miss his voice and just as importantly his manner.  His quote "You're betraying your whole life if you don't say what you think; and you don't say it honestly and bluntly" are words to live your life by and the example of his life should be a guidepath for all of us.
MARINE CORPS TIMES HEADLINE: "The Marine Corps has lost its first F-35.  An F-35B that erupted into flames after a faulty bracket issue nearly two years ago has been struck by the Marine Corps, making it the first loss of an F-35 for the Corps." The truth is that the aircraft had an onboard fire while it was on the ground, caused by a brake issue.  The headline is CLICK BAIT to get you to think a F35 may have crashed.
MARINE CORPS TMES HEADLINE: "Mattis to Naval War College grads: 'If this was vodka, it'd be a lot better speech' The 2018 graduates were treated to some candid comments from the defense secretary." The truth is he made a joke as he was attempting to clear his throat by drinking water after about a half dozen attempts to clear his throat during his speech.  THEY WERE NOT "CANDID COMMENTS," it was humor.  
In the spirit of Charles Krauthammer… someone needs to speak to the bozo headline writers there.
Podcast: Play in new window | Download