Col Jim "Sgt B" Bathurst, USMC (ret) has one of the most unique Marine Corps careers I have ever heard of, rising from Private to GySgt and then 2ndLt to Colonel after he received as commission during the Vietnam War.
Our interview was supposed to last an hour and it stretch into three hours and twenty minutes because of the unique career of this leader of Marines turned author and mentor (The Young Marine Program).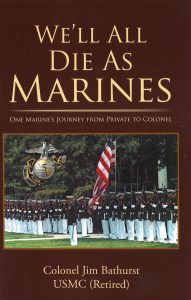 In Part 1 you'll hear the story of Jim's youth along Chesapeake Bay, how he and his Dad fed his Mother muskrat for years without her knowledge, how he found his way into the Marine Corps after dropping out of high school, becoming a "comm Marine," his time at Marine Barracks Yokosuka Japan, his tour as a Drill Instructor and his story of moving from the comm field to the infantry field prior to deploying to Vietnam.
You can buy the book "We'll All Die as Marines" here and you can check out Jim's blog — here.
Podcast: Play in new window | Download