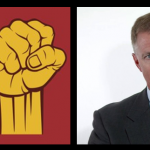 PACIFIC RIM SECURITY UPDATE WITH GRANT NEWSHAM.  We talk:
1,  "INDO-PACIFIC" Command:  does it matter that we changed the name?
2.  How do the Chinese use their economy as a weapon?
3.  How do the Chinese "extort" technology from countries seeking to do business in China?
4.  What is the end-state that the Chinese seek in the North Korean vs United States confrontation?
5.  What next in the North Korean vs United States
Podcast: Play in new window | Download