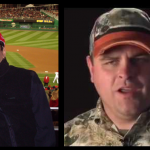 During the course of the weekend I reflected on some of what I had watched about Charles Krauthammer life, he was an amazing man.  You'll hear some of his wit and wisdom.
Also during the weekend I had a chance to relisten to a part of an interview I did with SSgt Jeremiah Workman, USMC (ret) who was a recipient of the Navy Cross for actions in the city of Fallujah, Iraq in 2004.  It is one of my favorite ALL MARINE RADIO interviews because of it rawness.  Jeremiah's decision to tell his story in a raw unvarnished way is a gift to the rest of us who struggle to get our hands around post-combat related mental health issues.,
I admire both of them greatly.
Podcast: Play in new window | Download