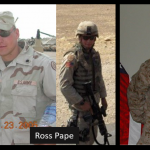 Ross Pape deployed to Iraq twice as a member of the 3d Armored Cavalry Regiment.  In 2003 he deployed to the western Iraq city of Husaybah in support of OPERATION IRAQ FREEDOM. Ross was a PFC and a M1A1 Tank Driver.  He would return to northern Iraq in 2007 with the 3rd ACR to conduct combat operations in the vicinity of the key border town of Tal Afar.
Ross had two brothers who served in the Marine Corps and deployed to Iraq and Afghanistan multiple time between them.  Both Riley and Ryan were killed while on active duty after returning from combat deployments.  Riley was killed in a motorcycle accident in 2005 and Ryan was killed in a night parachute jump at Camp Pendleton in 2009.
Ross joined ALL MARINE RADIO to talk about his struggle with PTSD and alcohol, both made worse by the loss of his older and younger brothers.
A great interview with a great Soldier… not perfect, but a fighter who much like Jeremiah Workman has continued to fight until he's got his life to a much better place.
Podcast: Play in new window | Download