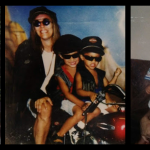 Nothing that either I or any of my friends have ever seen in Iraq or Afghanistan comes close to what my older sister Peggy experienced twenty-two years ago when her husband shot her two sons in the head after he beat her and then commited suicide in front of her. To this day I do not know how she lives with her pain.
Peggy joined ALL MARINE RADIO to talk about the events of that day for the first time in her life. The interview is a difficult one to listen to as you might expect, her pain is in plain sight. ALL trauma victims will identify with Peggy's words as she talks about the events of that day, her struggle to learn to coexist with her trauma, the guilt she lives with, her own thoughts of suicide, alcohol and PTSD and why she's never gone there.
As significant as her trauma is, Peggy also talks about hope and where that came from for her after the horrific events of October of 1996. That hope was a gift from a complete stranger.
Peggy has been an inspiration to me whenever I feel life has been unfair to me or when I think my burdens are heavy.  I hope you will find a lot of things in her story, but most of all I hope you will find it inside yourself to reach out to victims of trauma and ease their pain and tell them that you KNOW they can learn to coexist with trauma but they will never "get over it."  The truth in those words is powerful and real for trauma victims.
Finally, we as warriors and combat veterans have a special place in our communities and I can think of no greater purpose for any of us than to return the community that we call home and use the experiences we have gained to ease the pain of trauma victims, who unlike us never signed up for anything. In that giving we will find a peace that escapes many veterans.
Michael Francis McNamara  (Peggy's only brother)
Podcast: Play in new window | Download