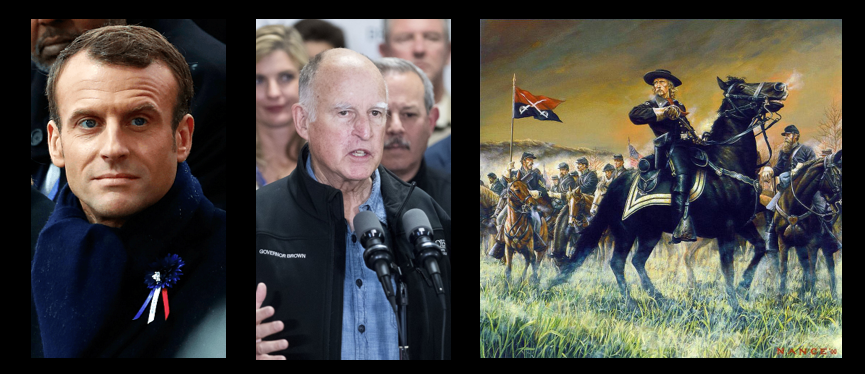 France's President, Emmanuel Macron, is "Co-Village Idiot" today, sharing the award with the Governor of California, Jerry Brown.
Macron Award citation: for conspicuous stupidity at the 100th Commemoration of the Armistice of 1918 (Treaty of Versaille) by calling on European nations for form their own collective army — oh by the way, most don't even hit their NATO GDP goal of 2% on defense.  AND, Germany is virtually and unarmed nation.  Nice job stupid one!
California Governor Jerry Brown:   for conspicuous stupidity while making remarks about California's wildfire, blaming them on global warming.  The state has incredible planning & zoning issues to deal with in order to protect communities that have encroached on California's "Fire Country" and his remarks ignored the hard work ahead of the state to make political points.  Nice job Jerry, politics over leadership is so tired.  Please go away.
I received an email about a conversation regarding LtCol George A. Custer's leadership & decisionmaking at the Battle of Little Big Horn.  We'll talk about it.
Podcast: Play in new window | Download