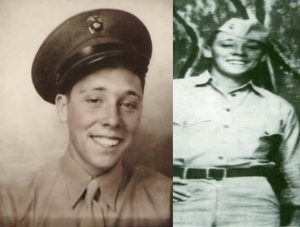 Cal Humphrey tells an incredible story of joining the Marine Corps as a kid from Missouri, meeting and getting to know John Basilone at the "slop chute" in Hawaii as they trained for the invasion of "Island X" which ultimately became Iwo Jima and then the fight for that island.
When asked how he dealt with what he saw on D-Day the former Marine PFC responded "I think everybody dealt with it the same way… probably your mind was all there… you had a few things to do that kept you focused… I can't explain it, your mind kinda does something… and there wasn't anybody to shoot at."
Weapon of choice:  "Napalm.  If they would have dropped napalm all over that island they might have hurt someone."
Sleeping on Iwo Jima:  "We set our grenades, machineguns… hopefully enough guys would stay awake and would wake everybody else up."
On the Japanese:  "That guy who set that island up was a genius.  They never did anything foolish, they never showed themselves… you knew they were there because they were killing ya.  Hell, it was like fighting ghosts."
On dying:  "Everyone thinks they're going to get killed… I told my guys to shoot at anything and kept your heads down… look in all directions and keep looking forward."
What makes a good Marine:  "A guy who can keep his common sense, you're not 10 feet tall and bulletproof.  And everyone in the service is just as good as you are."
Post-combat mental health:  "Never had any mental problems but I'll tell you what I did.  I never went into those places, the VFW and Legion.  I send them my money but I've never gone in those places.  Don't think I didn't dream about it a lot, I did.  I wouldn't lay there and suffer, I'd get up and read a book.  I got as far away from it as I could."
Cal Humphrey is a successful businessman and a proud Marine.  His humility and sense of duty are evident all these years later.  On a day that we remember both flag raisings on Mount Suribachi we salute PFC Calvin Humphrey, United States Marine Corps.
Podcast: Play in new window | Download