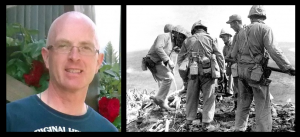 ON FEBRUARY 24TH OF 2019 THE AMATEUR IRISH HISTORIAN AT THE CENTER OF THE RE-IDENTIFICATION OF THE IWO JIMA FLAG RAISERS APPEARED ON ALL MARINE RADIO AND TEASED THAT SOMETHING "BIG" WAS GOING TO POSSIBLY BE MADE PUBLIC IN THE NOT TOO DISTANT FUTURE AND THAT THIS STORY WAS NOT DONE BEING TOLD — THAT THE COMPLETE TRUTH HAD YET TO BE TOLD — UNBELIEVABLE!  Stephen Foley is now a part of American & Marine Corps history — starting at the 1 hour and 8 minute mark of thIS interview, you'll hear Foley discuss the fact that the Marine Corps Historical Division was going to be publishing a "definitive account" of the first and second flag raisings on Iwo Jima.  He went on to say that "something" that was in the offing. He chooses his words very carefully and he wouldn't go into any of the details about it.  Amazing.
Mac:  "Will there be new information that we haven't seen about the flag raising?"
Stephen Foley:  "I believe so. Yes. I believe so. We'll just have to wait."
Stephen Foley was the impetus for the re-identification of Marines in the second flag raising on Iwo Jima in February of 1945.  ALL MARINE RADIO checked in with Foley a year after we first met him to see what he's been up to, to talk about the battle of Iwo Jima and to see what is on his radar. We think you'll find all three of those discussions with the amatuer historian very interesting and in this discussion he teases that something new is on the horizon relative to the second/iconic flag raising.
Podcast: Play in new window | Download