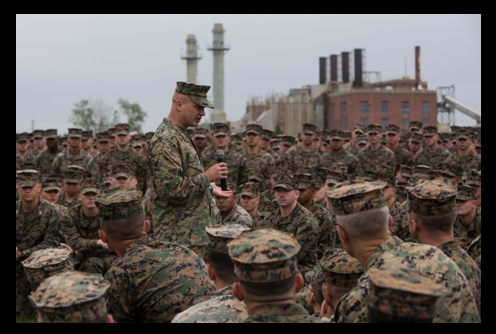 In April of this year the Commanding General of the 2nd Marine Division raised the issue of "discipline" with his Division and a storm of protest broke out on social media.  Aside from the fact that most experienced Marines knew that his concerns were "spot on," a firestorm ensued that included anonymous social media critics as well as substantive discussion around the Marine Corps a subject that many leaders were concerned about.  MajGen Furness joined ALL MARINE RADIO to discuss where the 2nd Marine Division is as it has "turned to" on the issue of being a more disciplined and lethal force.
MajGen Furness's "Follow Me Rules" for the 2nd Marine Division are HERE
LtGen Mattis's "Flat Ass Rules" were published when he was the CG of I Marine Expeditionary Force in October of 2006 are HERE
MajGen Van Riper's "21 Rules" were published in 1991 when he was CG of the 2nd Marine Division, they are HERE
Towards the end of the hour long interview MajGen Furness discusses the "continuing actions" that the Division has implemented in the wake having all hands see the "Post-Traumatic Winning" presentation.  In the six months prior to the Division receiving the presentation it experienced six suicides; in the seven months since the presentation was first given one Marine has taken his life. MajGen Furness talks about the Division's counselling program and the idea of "getting to know them better" and how those actions translate into sustaining the concepts that are contained in Post-Traumatic Winning.
Podcast: Play in new window | Download