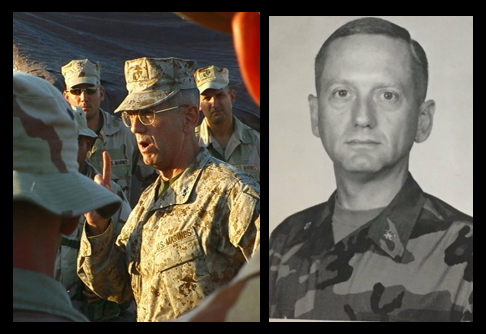 This is the third interview in a series that ALL MARINE RADIO will produce entitled "THOUGHTS ON DISCIPLINE."  The series features US Marine Corps leaders who have led Marines for decades, who have seen the Marine Corps before wars, during wars and after wars, and who have seasoned views of the role discipline plays in the existence of the Marine Corps and the lives of Marines. Each of these leaders has a deep understanding of what discipline has to look like so a "First to Fight" organization can accomplish its assigned tasks during a conflict or in peacetime.
General James N. Mattis, USMC (ret) hails from eastern Washington and during his incredible forty-four year career as a Marine became known for his intellectual abilities and charismatic yet no-nonsense leadership style that took him to the office of the Secretary of Defense.  In this interview you'll hear how General Mattis came to the conclusions he came to about discipline, the leaders who shaped those views and how those views changed as he advanced in his career —  in his own words, in extended format.  The interview is gracious, measured, thorough and exact — just as he is; any leader would do well to listen to his informed thoughts about this subject — DISCIPLINE — the bedrock of sustained success.
Below are two of General Mattis's more famous communications to his Marines and Sailors:
His upcoming book "CALL SIGN CHAOS — Learning to Lead"  is written with Bing West and will be published on September 3rd of this year by Random House Publishing Group.
EDITORS NOTE:  if you're looking for something sensational about the Trump Administration you won't find it in this interview. What follows is a measured professional discussion about a "hot topic" in the Marine Corps today — DISCIPLINE – that discussion benefits greatly from the sage advice of one of the Marine Corps greatest General Officers.. 
Podcast: Play in new window | Download