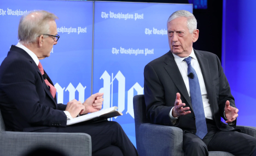 You can watch the presentation HERE.
The Ignatius-Mattis conversation covers the following:
The Afghanistan Papers
Good order and discipline and the Gallagher example
How does the country change itself?
Political manipulations to the US aid to the Ukraine
Should we resume military exercises with South Korea?
Iran's strike on the Saudi Arabian oil fields, was our response correct?
Mattiis's desire to remain on the outside of politics… his silence… will it end before the next election?
Podcast: Play in new window | Download