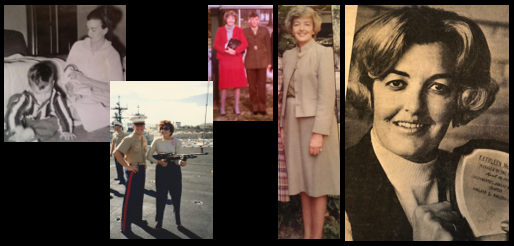 Today is my mother's birthday, god rest her soul.  She would have been 86 years old — Corporal Punishment Kathleen as I call her… but Kathleen to her friends. She was the driving force in my life and the reason I am the person who I am and a GREAT cook in addition to being a caring, selfless mother.
The pictures… from left to right are of the following:
My Mom holding my younger sister and me doing my thing as a little guy
Kathleen aboard the USS Ranger during Fleet Week in San Francisco in 1987… she wasn't too excited about the machinegun but she grabbed it like a champ and wanted to make sure she was holding like a pro!  LOL
Next to me (in red) on the day I was commisstion a 2ndLt outside of Little Hall in Quantico… she told me that she thought I'd love being a Marine, the only person to say that to me
Kathleen, ALWAYS DRESS WELL (a "Nordstrom's" girl before it was cool), after a wedding in Sacramento CA where I grew up
A newspaper picture of my Mom… she wasn't a huge fan of that stuff but obliged when she thought it appropriate… I just like the picture
HAPPY BIRTHDAY MOM!
FIRED UP as I head to North Carolina to do Post-Traumatic Winning again!  It's been three and two-thirds months since I last did it… too long!
Podcast: Play in new window | Download