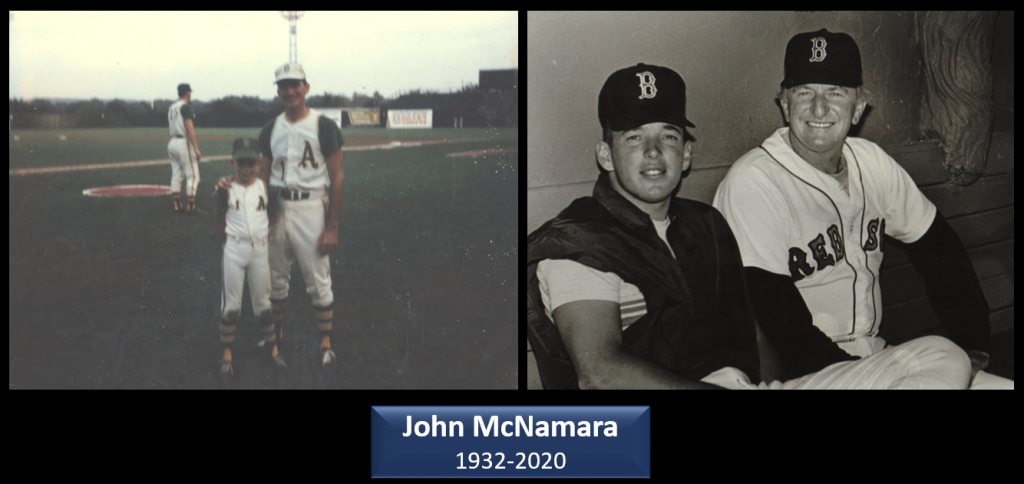 Believing that the truth is important, I thought I'd use the occasion of my Father's passing to share my personal experiences relative to a controversy that surrounds the 1986 World Series, a World Series that has gone down in baseball history.  My Father and Roger Clemens have been at the center of a controversy since the night of October 25, 1986 over why Roger Clemens was removed for a pinch hitter in top of the 8th inning of that game.  Did Roger Clemens actually tell my Dad that he'd had enough or did my Dad make a tactical decision to pinch hit for the future Cy Young Award and MVP of the American League?
This podcast is about the conversations I had with my Dad the night of October 25, 1986.  Those conversations only included he and I, talking about the ballgame, as we had done since I first began going to baseball stadiums with him when he managed the Mobile A's in the Southern League in 1967, I was eight years old and my Mom agreed that I could start going to the stadium with him. My only interest here, in adding my voice to this piece of baseball history, is rooted in the belief that the truth is important and I don't believe it has been accurately portrayed.
My Dad loved managing the Boston Red Sox.  From the first time he saw him pitch, my Dad thought Roger Clemens was a special talent and told me that if he stayed healthy would be a Hall of Fame pitcher — something he told me about only one other young player… Alex Rodriguez.  He loved the way his tough players… Don Baylor and Billy Buckner to name a couple, went out and battled on a nightly basis.  Boston, so rich in Irish traditions, so rich in baseball tradition was a magical place… and his world, rooted in the magic of Fenway Park was something he dreamed about as a young man except the reality proved to be better than the dream… until it wasn't.
So this is my contribution to the truth of that night… my Father, who was terrible with the media, deserves that it be told.
 Click here to watch the Mookie Wilson at-bat in the 10th inning of the 1986 World Series
Podcast: Play in new window | Download