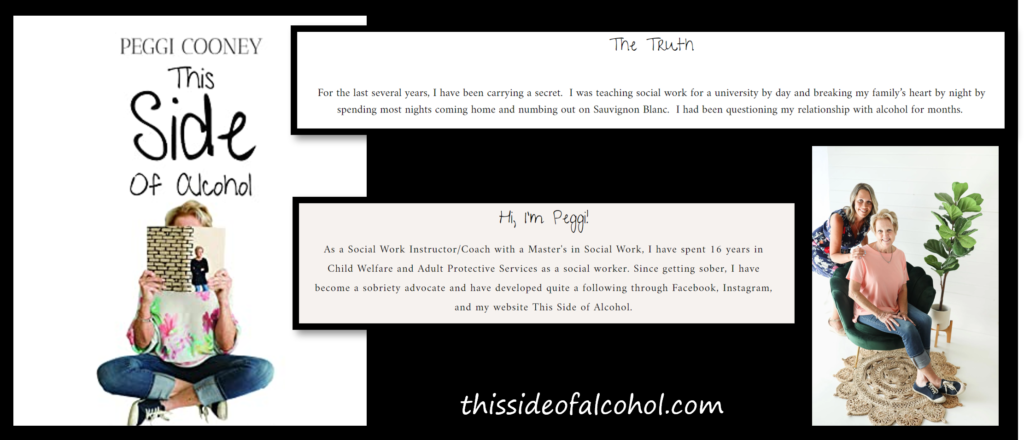 Peggi Cooney is a smart, down to earth, FUNNY and direct woman.  I met her a year ago when she along with another mutual friend told me I should begin doing "online seminars" with my Post-Traumatic Winning presentation — I had never met her before. Their advice changed my life and the lives of many others who went through one of the five Post-Traumatic Winning Online Seminars that I held this past year. But it was the time Peggi and I spent together in those seminars, in amazingly deep discussions about trauma and its aftermath that we became friends.
Peggi's book is entitled "This Side of Alcohol" and was published in November of 2021 by Leaning Rock Press LLC. Her book is inspirational to me because Peggi is inspirational to me — specifically her courage inspires me. This Side of Alcohol takes us a journey that is so familiar to us… the journey of a flawed human being struggling to live a great life. In this interview you'll get to know Peggi, how she grew up and the events that shaped her world… all of which led her to alcohol. You'll also get to know the very cool, plain spoken women whose courage helped her transcend her alcohol addiction and impact the lives of many who find themselves in the same struggle.
So… without further ado, I'd like you to meet my friend… Peggi Cooney.
Podcast: Play in new window | Download