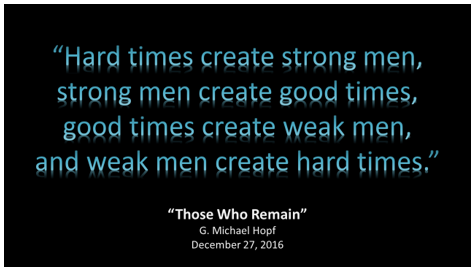 A week ago a Marine Sergeant gave me the quote that sits to the right of this text.  I thought it was a profound piece of wisdom and so I went looking for the author.  His name is Geoff Hopf.  As luck sometimes has it, he's a former Marine who fought in the Gulf War.  Geoff's story from being the son of a Korean War-era, Browning Automatic Rifle carrying, US Marine… to himself becoming a Marine who fought in the Gulf War… to deep-sea construction diver… to bodyguard… to resort developer… to then becoming the author of 37 books is an amazing and interesting story… the story of a real-life adventurer.
From Geoff's website:  "If you enjoy reading about post-apocalyptic landscapes, wild west gunfights and the creepy world of the paranormal, then you're in the right place because G. Michael Hopf has written about them all."
Geoff is also a publisher… you can check out his publishing company here:  Beyond the Fray Publishing
Great dude, not afraid… great interview.
Podcast: Play in new window | Download